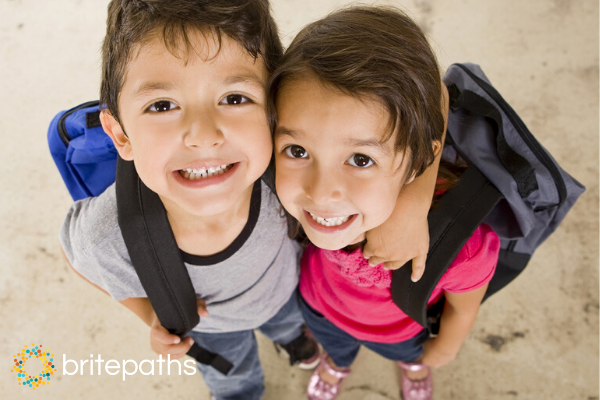 Click Here to Help Us Spread the Word!
Read the Connection Article
Visit Our Back to School Page
Britepaths is seeking donations from the community to assist students in need who attend schools in the Fairfax County area as part of its annual Collect for Kids Back to School Program.
Britepaths' goal is to provide supplies for at least 2,500 Fairfax County Public Schools (FCPS) students who attend schools in the Fairfax High School and Justice High School pyramids (full list below). Britepaths will provide pre-packaged supply kits to its partner schools for distribution to students with demonstrated need. The supply kits will be helpful to students whether they attend school on-site or virtually.
Community members are asked to donate funds via Britepaths' secure on-line donation page or mail a check to 3959 Pender Drive, Suite 200, Fairfax, VA 22030. Write "BTS" in the memo line. For more information, phone 703.273.8829 or email sryan@britepaths.org.
Britepaths is collaborating with Fairfax County's Collect for Kids partnership to serve as many FCPS students in need as possible by purchasing school supply kits from Herndon-based Campus Survival Kits. Thanks to this bulk ordering arrangement, a donation of $25 will provide all the necessary supplies for two students. Britepaths is working to raise $25,000 by August 15 in hopes of assisting 2,500 students.
Lisa Whetzel, Britepaths' Executive Director, said, "Each year, thousands of Fairfax County students face various challenges that no child in our country should have to face. Food insecurity, lack of resources for school supplies, and limited access to appropriate school clothing are some of the very real issues that distract students from meeting their highest academic potential. The pandemic has affected us all in some way and has greatly increased the burden on working families in our community. We hope our neighbors will respond generously to ensure that children whose families are in crisis are ready to learn, with dignity and all the tools they need to succeed – whether they're learning in school or virtually."
Though Britepaths has traditionally collected donations of backpacks and calculators in addition to funds, the organization is not able to accept these donations this summer and is only able to accept financial donations via its web site or check.
Britepaths is in its 36th year of providing assistance and a way forward for struggling individuals and families throughout the Fairfax County area. During COVID-19, Britepaths is providing greatly enhanced Food and Financial Assistance services to Fairfax County area residents in crisis thanks to our Grantors, and Virtual Financial Literacy, Job Readiness services and more via the Financial Empowerment Center at South County. Throughout the year, the organization relies on funding and volunteer support from businesses, individuals, community organizations and faith communities to provide services that: Stabilize Families: supplemental food and financial assistance; Build Resilience: Financial Education, Project BRIDGE, Network Up, Avenues to Career Training and the Financial Empowerment Center at South County; and offer Seasonal Supports: Back to School, Food4Thought and Holiday assistance. More information is available at: britepaths.org.
###
The Fairfax County Public Schools with which Britepaths is partnering to provide supplies include:
Fairfax High School Pyramid
Daniels Run ES
Eagle View ES
Fairfax HS
Lanier MS
Providence ES
Justice High School Pyramid
Baileys Upper ES
Beech Tree ES
Belvedere ES
Glasgow MS
Parklawn ES
Sleepy Hollow ES
Other
Categories: