For the last few years, we've invited our volunteer to our office during February for an annual Volunteer Appreciation celebration. Since we can't gather in person yet, we're celebrating them virtually. Over the next few weeks, we'll spotlight various groups of volunteers on this page.
Office Volunteers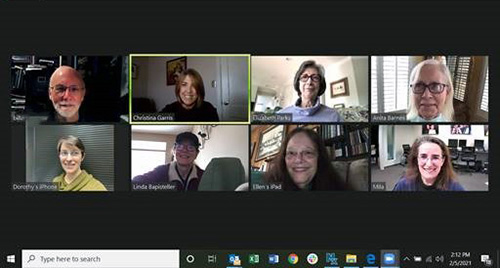 Our staff really enjoyed catching up with several of our Office Volunteers via Zoom on February 5. Bill Arey still joins us in the office some, but our other volunteers continue to help us from home. Everyone is doing well during the pandemic, staying busy and healthy. They enjoy being able to continue their volunteer work, and their continued assistance is making a big difference for our staff. In the photo (clockwise from top left): Bill Arey, Britepaths' Christina Garris, Elizabeth Parks, Anita Barnes, Britepaths' Mila Cobos, Ellen Staley, Linda Bapisteller and Britepaths' Dorothy Altmiller.
---
Financial Assistance Volunteers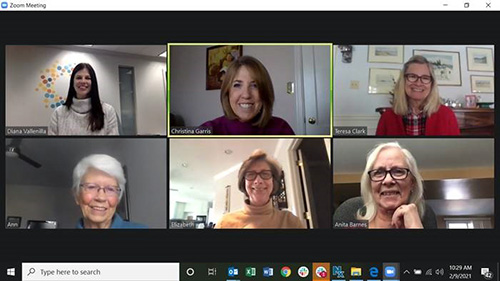 We met with our wonderful Financial Assistance Program Volunteers -- known as our FAST Team -- on February 9. This has always been an at-home volunteer position. They take regular shifts to answer requests for financial assistance from Fairfax County Social Workers. They approve the requests based on the amount of available funds for the day and then pass those requests on to our Financial Programs Manager Diana Vallenilla to pay the vendors for families needing rental and utility assistance. They all expressed gratitude to continue volunteering during the pandemic, which made them feel grateful and grounded. They noted that hearing clients' stories helped them feel like they were contributing to allow people to stay in their homes during these trying times. In the photo (clockwise from top left): Britepaths' Diana Vallenilla and Christina Garris, Teresa Clark, Anita Barnes, Elizabeth Parks and Ann McNeish. Anita and Elizabeth are also regular Office Volunteers.
---
Financial Literacy Volunteers (Part I)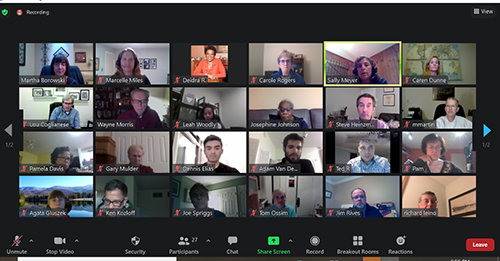 So great to "see" many of our wonderful Financial Literacy volunteers on January 14 at our Virtual Roundtable! We love this opportunity for mentors, coaches and instructors to meet with Britepaths and Financial Empowerment Center at South County staff and exchange ideas and resources. It's a little different now that we can't meet in person, but still wonderful to connect. We're so grateful to our amazing volunteers for their dedication to helping community members who are struggling find ways to improve their finances and move forward during this difficult time. (More on our Financial Literacy Volunteers to come)
Check Back Soon For More Volunteer Spotlights!
Categories: