SNAP at the Farmers Markets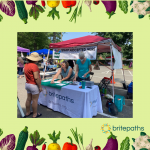 National Farmers Market Week — Aug. 7-13, 2022: Britepaths is celebrating National Farmers Market Week by thanking our partners and volunteers who make our SNAP at the Annandale Market and Our Daily Veggies programs possible. View our Instagram Guide to learn more.
---
In partnership with the Fairfax County Park Authority, FRESHFARM and Local Environmental Agriculture Project (LEAP), Britepaths is helping SNAP/EBT users maximize their benefits to shop for fresh produce at the Annandale Farmers Market each Thursday morning during the market season.
Double Your EBT Value at Select Fairfax County Farmers Markets!
Select Fairfax County Farmers Markets offer a SNAP matching program as an incentive to shoppers during the Market season. In 2022, SNAP programs will be available at the McCutcheon/Mount Vernon (Wednesdays), Annandale (Thursdays), Reston (Saturdays) and Lorton (Sundays) locations. Volunteers run the SNAP booths where customers swipe their EBT cards to redeem tokens to spend at the market. Read the Inside NOVA article.
Britepaths will offer SNAP at the Annandale markets on Thursday mornings through November 4, 8a-Noon, at Mason District Park, 6621 Columbia Pike.
Please Share:
---
Healthy Food for All: Since 2011, Britepaths has partnered with local farmers market vendors to offer "Our Daily Veggies" vouchers, allowing our clients to shop for fresh fruits, vegetables and proteins at the Fairfax County Farmers Markets and Fairfax Community Markets in Fairfax City during the season. Click Here to learn more and see our participating vendors.