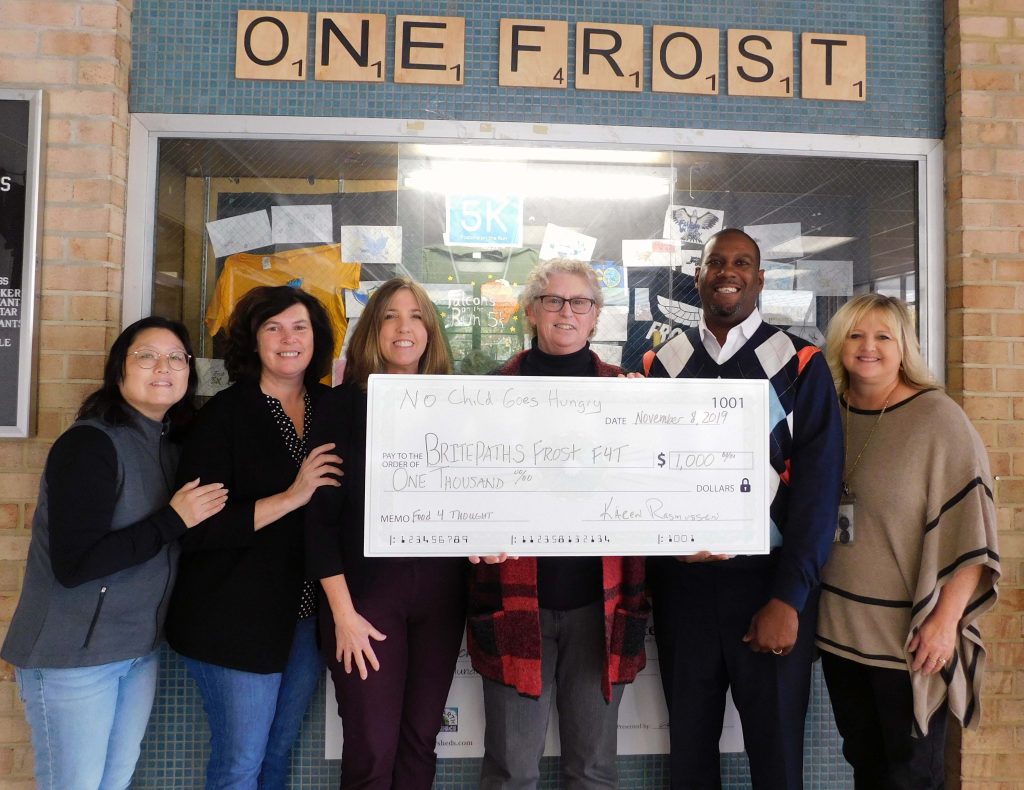 We're so grateful to No Child Goes Hungry (NCGH) for donating $1,000 to our Food4Thought Program Partner School Frost Middle School in Fairfax to help them provide weekend food packs for students in need at their school. We gathered at Frost on November 8 to celebrate the donation with NCGH founder Kären Rasmussen (also a Britepaths Board Member), Principal Anthony Harris, and the program organizers. With this support, along with generous donations from community members, their program is off and running for the school year. NCGH has donated at total of more then $6,000 to Food4Thought Partner Schools since its inception in 2016.
Britepaths is an Ignite Partner with Fairfax County Public Schools, and currently works with 20 FCPS schools to support their efforts to provide weekend food to students in need at their schools. In 2018, 841 students received food through Food4Thought. Click Here to see the list of all our Partner Schools and learn how you can donate food or funds, or create food packs as a service project.
Through a shared grant from Fairfax County, Britepaths partners with Food for Others to assist as many students in need as possible across FCPS with weekend food support. Food for Others largely receives and distributes packs to Title 1 schools, while Britepaths works with Partner Schools to help them serve their own students through volunteer and community support.
We welcome new Partner Schools and also supporting organizations like NCGH to assist our partners. Contact Christina Garris at cgarris@britepaths.org or 703.273.8829 to get involved.