A big thank you to all who donated to our Collect for Kids Back to School program in the summer of 2021! We exceeded our goal to raise $40,000 to provide school supply kits to 4,250 students at Fairfax HS, Justice HS and their feeder schools. This is twice the amount of students we normally serve. We greatly appreciate everyone who stepped up and helped us rise to the challenge! 
We are so grateful to our Sponsors: NVAR Cares, Twins Ace Hardware and Mara Hair and Mode Studio, and to our partners: Collect For Kids/Foundation for Fairfax County Public Schools and Campus Survival Kits.
Your donations helped us provide school supply kits to students who might have otherwise gone without school supplies at the following Fairfax County Public Schools: 
Fairfax HS Pyramid: Daniels Run ES, Eagle View ES, Fairfax HS, Katherine Johnson MS, Providence ES and Willow Springs ES.
Justice HS Pyramid: Bailey's ES, Bailey's Upper ES, Beech Tree ES, Belvedere ES, Glasgow MS, Justice ES, Parklawn ES, Sleepy Hollow ES
Central Fairfax: Fairfax Villa ES
It Takes A Community!
A big thank you to the publications that featured articles about our 2021 Back to School drive:  Connection Newspapers, Annandale Blog and Golden Gazette. Scroll down to enjoy some photos and video: 
Loved this tweet we received just before the school year started from our friends at Glasgow MS.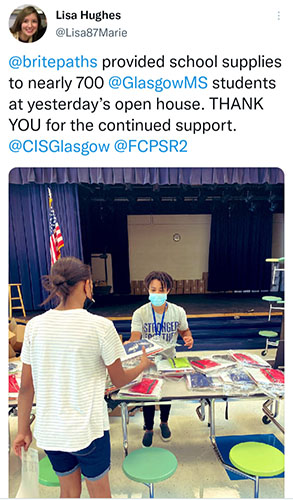 ---
On August 16, Twins Ace Hardware Fairfax co-owner Craig Smith (center) met up with us at Daniels Run Elementary School, one of the recipients of school supply kits, to present Britepaths with a check for $2,000! Photo below. The store raised the funds in July through a "round up" campaign, where customers donated change from their purchases at the register. The store then "rounded up" those contributions to reach $2,000. We are so grateful to Twins Ace and all who donated! Read the Connection article.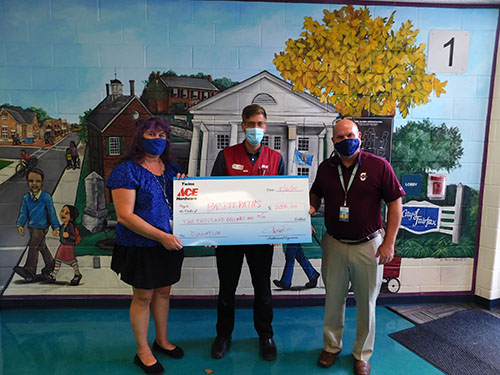 ---
Students and their families are so grateful for these supplies, and so are the staff and administrators at our partner schools! Glen Forest ES Principal Diane Herndon-Wilson (at right, with Assistant Principal Coretta Brown) tweeted and sent us an email: "A huge thank you to you and your organization for the school supplies for our students! I got excited when we opened the boxes, so I know the kids will be excited for sure!"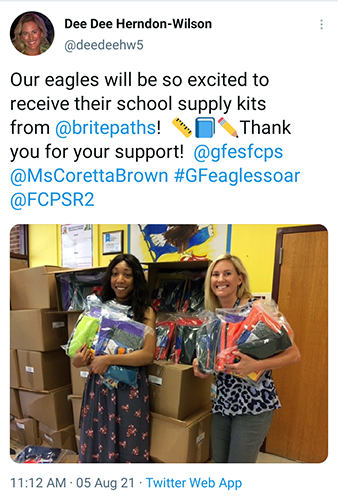 ---
Mara Hair and Mode Studio designated Britepaths as the beneficiary of its raffle for their 6th Anniversary celebration in July. They raised $2,257 from raffle ticket sales and donations to help our kids.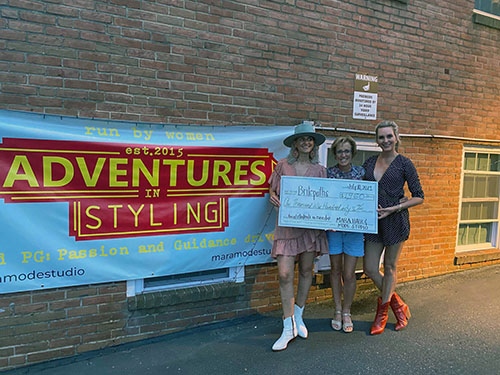 ---
Our Development Director Shannon's wife Natasha and their little guy visited Twins Ace Hardware on July 27 to round up for Britepaths' Back to School campaign.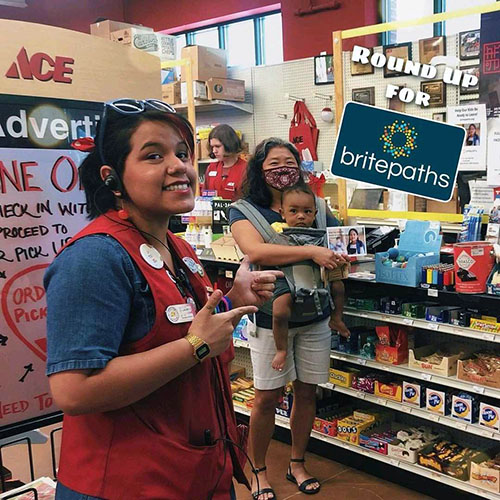 ---
The school supply kits that your donations purchased from Campus Survival Kits.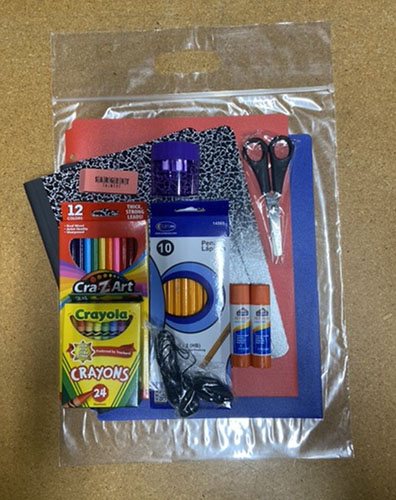 ---
We asked long-time school social worker Jean Wyman her thoughts on what it will mean to the kids whose families are struggling when they receive school supplies through our Back to School Program (britepaths.org), and how supporting this effort can make such a meaningful difference. 
Categories: