DéShaun and DaJuan's Story
"I am really thankful for the timing of Britepaths in my family's lives. Wanting to get our finances in order, I jumped at the opportunity for guidance, but Britepaths gave us so much more!" — DéShaun, Project BRIDGE Program Graduate
Congratulations to our newest
Workforce Development
program (formerly known as Project BRIDGE) graduates, DéShaun and DaJuan! We are inspired by this local couple's dedication and commitment to really turning around their financial situation. DéShaun is second from the right in this photo, with Britepaths' Marcelle Miles, Christina Garris and Sally Meyer.
Since coming to Britepaths through a free Financial Coaching Clinic in early 2016, they have  worked diligently with the support of our staff and volunteers to eliminate debts, get on top of their monthly bills, save, and build a secure financial future for themselves and their two young sons. This new-found financial stability has helped DeShaun pursue new career goals – and even provide guidance to our other clients.
They graduated from Project BRIDGE in August 2017, but their work toward financial success continues. Read more…
DéShaun and DaJuan's Story
We first met DéShaun and DaJuan when they attended a session of our free Financial Coaching Clinics at United Community in Alexandria in January 2016. They are in their late 20s, have two young sons, and each worked a steady job along with a second job. But even with all their hard work, they were behind in their rent and struggling to meet their regular monthly expenses.
They were partnered with our volunteer Financial Counselor Didi that night. They both learned so much from her that when asked if they would like to be financially mentored, they said yes, if they could be matched with Didi. Didi hadn't mentored anyone before, but she too was inspired by their determination to become financially stable, so she agreed.
They signed on for six months of Financial Mentoring, but after having met for a few months, and with DéShaun's eagerness to improve her job potential, they moved to our longer-term Project BRIDGE Program.
From the beginning, the young couple were eager and determined to get their finances in order so that they could better provide for their two young sons. They were very open with Didi, and ready to listen and follow her guidance on how to tackle their debts. DéShaun was already banking with Simple, using their "goals" feature in their app for envelope budgeting. She continued to rely on that daily, as well as using a planner to help her stay organized, plan their budget, and remain on budget.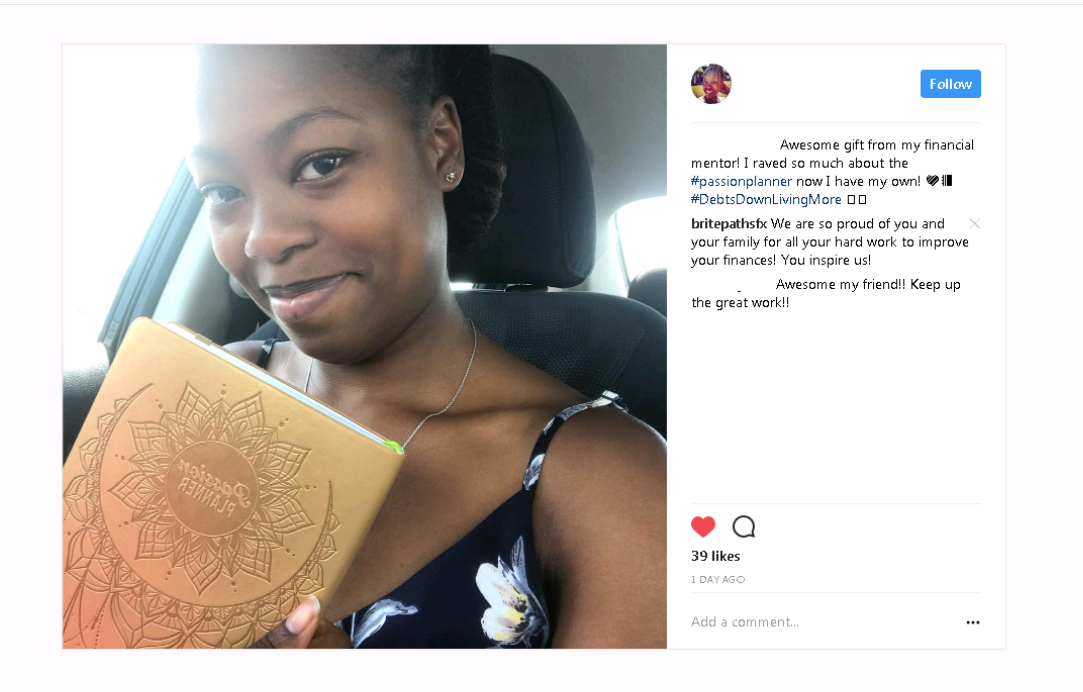 In the Photo:
DéShaun posted: "Awesome gift from my financial mentor! I raved so much about the #passionplanner now I have my own! #DebtsDownLivingMore"
In addition to student loans and a car payment that could not be readily paid off, they decided to tackle other achievable debts and to catch up with back taxes as their goals. Initially, they concluded that with paying the minimums, they could be debt-free in 52 months. Some might have gone along with that knowing that there was some light at the end of the long, long tunnel, but this young couple was more resolute.
After a few months of tracking spending, taking notes on trends, qualifying to receive assistance through our Food Bridge Program, and making the tough decision to temporarily stop contributing to DaJuan's 401K, they were able to reallocate funds and start chipping away at debts. Once they erased one debt, they tackled another, and so on until March 2017, when they had erased all but two debts, aside from their school loans and car payment. They were also able to regularly contribute monthly to an emergency fund and set aside the required $500 to participate in our Matched Savings Program.
In addition to learning and implementing sound financial practices, DéShaun put much thought into her professional goals. Although she had spent more than a decade in health care and thoroughly enjoyed helping and working with people, she sensed she needed to make a change. Deeply rooted in her faith, and seeking out people to talk to in the field she was thinking of pursuing, she decided that she wanted to apply the workforce development assistance funds she received through Project BRIDGE toward certification in holistic coaching. She trained in July and is completing work to earn her certification.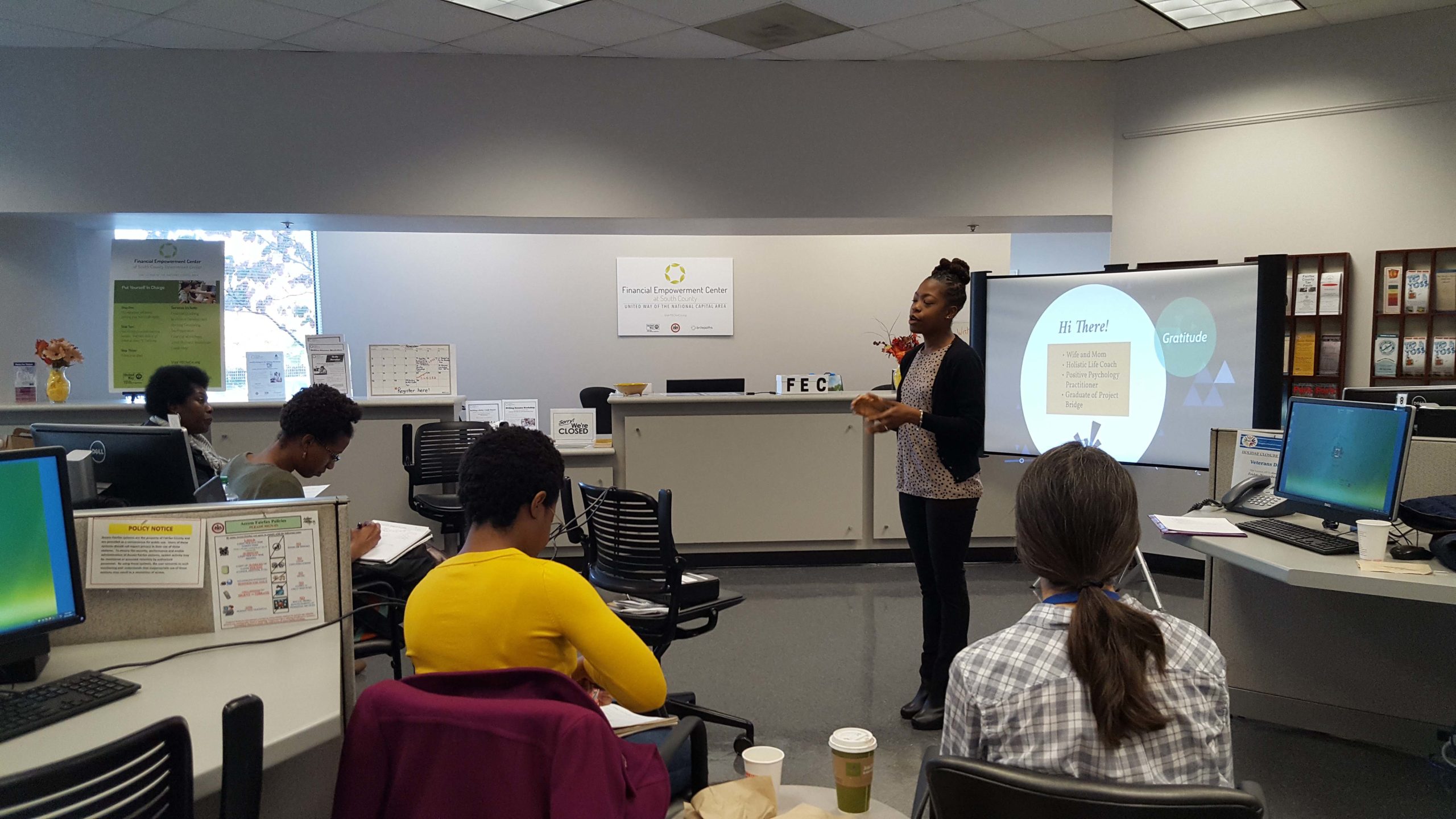 DéShaun's Holiday Budgeting Workshop
On November 11, 2017, DéShaun led a workshop at the Financial Empowerment Center at South County (FEC), which Britepaths is partnering to operate through a grant from the United Way of the National Capital Area and support from Fairfax County. Attendees included Britepaths' clients and FEC clients, and is the first joint workshop for the two organizations.
DéShaun discussed the very timely topic of budgeting for the holidays. She handed out a worksheet that helped participants to map out their current expenses that must be met, and then determine what their holiday budget should be after those critical needs are met. She advised participants to make a list of who they'll be shopping for, and to think about other ways in which to give that don't involve spending a lot of money, such as volunteering together, making homemade gifts, etc. She also led a discussion about gratitude to help guide the group's thinking about the meaning behind giving gifts. She asked participants to think about what were their favorite childhood gifts, and what they are thankful for today.