COVID-19 Grants Provide Vital Supports for Our Struggling Neighbors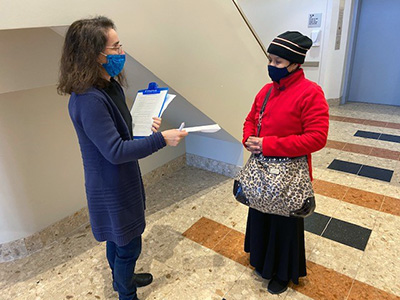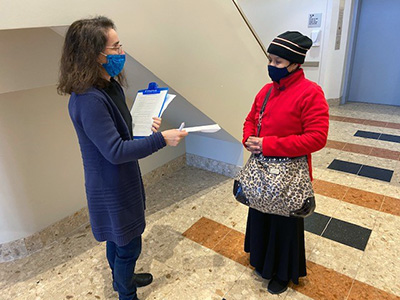 Your Support is Helping Neighbors Like Ms. P Get Back On Their Feet. Click Here to see his thank you note and more thanks from our families.
Thanks to the support of our generous COVID-19 Grantors, in 2020, Britepaths was able to provide $771,917 in Financial Assistance to help 1,377 people in 423 households stay in their homes and keep the lights on. And $618,104 in Food Assistance to keep food on the table for 2,453 people in 694 households.
---
In early March 2020, everyone in the Fairfax County area and Northern Virginia began to prepare for sheltering in place due to COVID-19. Britepaths mobilized quickly and called on our community for donations of supplies and funds — initially to help families stock up on food and supplies, and then to sustain them as the shut down wore on.
It has become clear that this is not a sprint — we are now in a marathon to help ensure that the most vulnerable families have food on the table and are able to stay in their homes while they weather this crisis. Many have lost their jobs. Britepaths immediately saw a 400% increase in requests for assistance, and the need is only likely to grow.
We are grateful to the following organizations for granting us funds to provide Food, Financial Assistance and other vital supports to struggling families in our community:
Fairfax County named Britepaths as one of several non-profits to distribute Basic Needs Supplemental Funding from the Federal CARES Act to Fairfax County residents in need.
The City of Fairfax has granted funds to Britepaths from the CARES Act to provide Food and student Digital Access support to City of Fairfax residents who are referred for assistance.
Fairfax County awarded Britepaths a Nonprofit Sustainability Grant of $25,000 to support organizational needs during this crisis.
Apple Federal Credit Union granted Britepaths $20,000 from its COVID-19 Emergency Grant fund to provide food, financial assistance and our 0% MPower Loans. View Video with Executive Director Lisa Whetzel, or see below.
Bank of America granted Britepaths $20,000 from its COVID-19 Emergency Grant fund to provide food and financial assistance.
United Way of the National Capital area granted $10,000 from its COVID-19 Emergency Assistance Fund to provide food and financial assistance.
Universal Janitorial Services, Inc. of Fairfax City donated $6,200 to provide food and financial assistance.
The Northern Virginia Association of Realtors (NVAR) Cares Committee awarded Britepaths a $3,000 grant for food and financial assistance.
Philip L. Graham Fund awarded Britepaths $3,000 for operating funds related to COVID-19.
Foundation for Financial Planning granted $2,700 for technical tools to support Britepaths' and the Financial Empowerment Center at South County's efforts to provide virtual Financial Literacy coaching, mentoring and classes.
Northwest Federal Credit Union granted Britepaths $2,500 in COVID-19 Relief funds to provide food and financial assistance.
Commonwealth Consultants encouraged friends and associates to donate to Britepaths' COVID-Relief efforts for #GivingTuesdayNow on May 5.
Akamai Technologies and Akamai Foundation provided an $1,880 grant via its COVID-19 Matching Grant Program. Britepaths is honored to have been named an Employee Designated Charity, meaning anyone may choose to donate to us via akamaigiving.com.
Womenade of Fairfax granted $1,200 to provide food and financial assistance.
Britepaths is honored to have been recognized by all of these organizations as a trusted partner with the ability to quickly deliver relief to our struggling neighbors. We thank all of our grantors for recognizing the overwhelming need in our community and moving efficiently to provide it.
We would like to offer a special thank you to Fairfax County's leadership for opting to earmark a significant portion of its Federal COVID-19 relief funds to assist Fairfax County residents who are struggling during this difficult time. We are honored to have been chosen as one of several great organizations to distribute these funds. We are so proud to be part of a community that is placing a high priority on assisting our most vulnerable neighbors. Thank you Chairman Jeff McKay, our Fairfax County Supervisors, County Executive Bryan Hill, Deputy County Executive Tisha Deeghan, and our colleagues in the Department of Health and Human Services for your leadership during this trying time for all of us.
We also thank the many individuals, families and organizations who supported our Adjust. Give. campaign. These generous supporters helped us raise more than $100,000 by April 15 to support our work and help our vulnerable neighbors. We are all adjusting to unprecedented times, and there is so much to be done. It is inspiring to know that so many community members are supporting us and our families in this journey.
Need Help?
Fairfax County residents who are in need of assistance should contact Fairfax County's Coordinated Services Planning office at 703.222.0880. Residents of other Virginia jurisdictions may dial 2-1-1 or visit the 211 Virginia web site.
Britepaths and the Financial Empowerment Center at South County are providing free, virtual Financial Coaching, Workforce Development Coaching, Tax Preparation assistance and Small Business consulting services, as well as a variety of classes and workshops. Visit our Virtual Resources page for details.